Leucocyte filter
Objective to investigate the efficacy of leucocyte filter in removing residual tumor cells in the blood after rinsing with the blood recycling machine.
Introduction to the Leucocyte filter:
Methods intestinal tumor cell LOVO and gastric tumor cell SGC were cultured in vitro. The tumor cells were counted and mixed with concentrated red blood cells, and then filtered by white blood cell filter. The effect of filtration on tumor cells in blood samples was observed and compared with the control group without filtration treatment. Results no tumor cells were found in the filtered blood samples, while tumor cells were found in the control blood samples. After 14 days of culture, no tumor cells were observed in the blood samples filtered by leukocyte filter, while a large number of tumor cells were observed in the blood samples of the control group. Conclusion the application of autologous blood recycling machine combined with white blood cell filter can effectively remove tumor cells in blood.
White blood cell filter is widely used in foreign countries. In recent years, great progress has been made in China, which has received great attention from clinical medical staff. At present, the white blood cell filter has become the most effective method to remove white blood cells due to its high efficiency, simple operation, reasonable price and no adverse reactions. However, the application of white blood cell filter to remove tumor cells in blood is rarely reported in China.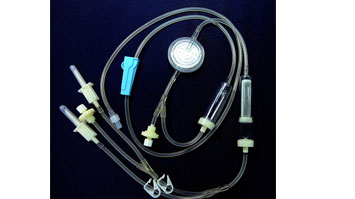 PLT Filter FSPL01K-HE01
Product introduction:
Clinical significance of leukocyte reduction filter:
· prevent the occurrence of alloimmune reactions
· reduce the incidence of ineffective platelet transfusion
· prevent transfusion-related cytomegalovirus infection
· prevent febrile reactions of non-aqueous blood transfusion
· reduce the incidence of transfusion-related thrombocytopenia
· reduce abnormal immune function caused by blood transfusion
· reduce organ reperfusion injury
· delayed rejection of organ transplantation
· enhance the effect of malignant tumor treatment
The practical value of leucocyte removal
· reduce platelet dosage
· reduce the use of HLA compatible platelets
· provide blood equivalent to a negative cytomegalovirus test
· reduce the workload of health care workers
· cost savings